Embarked on a career as one of AsiaSat's very first recruited satellite engineers, Fred is now leading teams of satellite operations, satellite engineering, and earth station and infrastructure engineers 7x24 looking after a fleet of 7 operational satellites and Tai Po Earth Station which is equipped with TT&C and teleport facilities.
Q: Fred, before you undertook your current role as the Vice President of Technical Operations, you were one of the few colleagues who wore several hats – from IT, orbital analysis, to satellite operation and earth station management. Which function would you like most or find it more challenging?
A: 30 years ago when AsiaSat was set up, I was employed as an orbital analyst responsible for satellite station-keeping. This job gave me the opportunity to understand the profound knowledge about space and my job was "On top of the world".
As AsiaSat was a very young company in the early 90s, everyone wore several hats. Due to my computer science background, I started to pick up the responsibility to set up the company's first computer network, file and print server, e-mail server, firewall and other IT gears. With many late nights and overnights debugging and troubleshooting, it was fun.  It was also a perfect job for a young and energetic guy who had more energy than he needed. The most valuable return of my IT life was that I got to know everyone in the company when I was managing the IT help desk.
Today, my challenges are also multitasking - looking after a fleet of satellites, ensuring the earth station facilities are always ready for service, understanding the importance of teamwork and staff training, and growing high calibrated employees, as after all it is people who make the satellite and business running.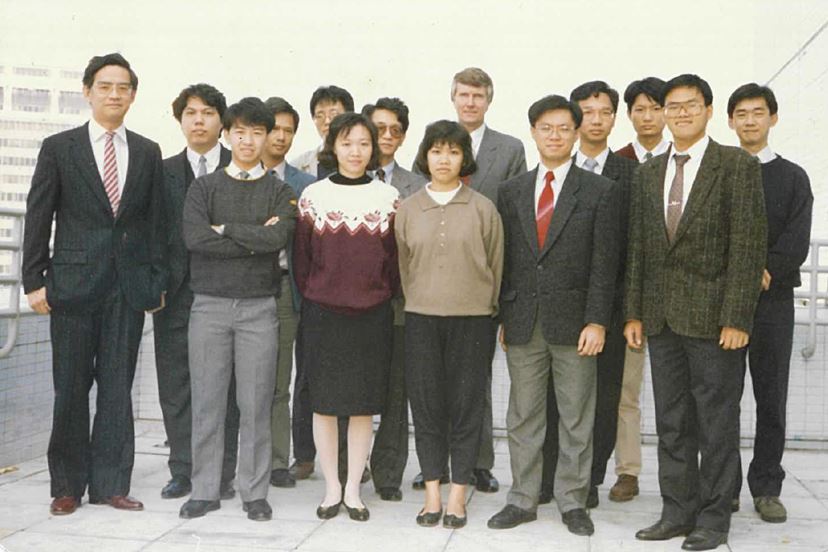 Fred (front row, second from right) with the 1st generation Operations Team and former CEO Terry Seddon. Standing on the right of Fred was Annie, Hong Kong's very first female satellite controller
Q: You once said your greatest inspiration is from your university mathematics professor telling you to challenge yourself and always follow your passions. What was your greatest passion when you joined AsiaSat 30 years ago? Does this passion change over time?
A: My passion has not changed, I still love to explore new technologies and accept new challenges.  AsiaSat launches a new satellite every 3 to 4 years. As each satellite programme has its unique challenge, we are all very excited about every single satellite mission, and every launch gives us very special experience. All these demanding tasks and excitements from growing and looking after our satellite fleet continue to fuel my passion.
I am truly thankful to those whom I have worked together all these years, spending many long days and late nights with, either to meet a deadline, to fix some bugs or to improve on certain procedures. All these discussions or even debates or arguments have inspired me to look at things differently, making my work life even more colourful.