Joined AsiaSat in December 1989 when he was a fresh university graduate, William is now AsiaSat's Director of Engineering, one of the few colleagues who have participated in all of AsiaSat's satellite missions – counting from number 1 to 9!
Q: William, what do you think being one of Hong Kong's first local satellite controllers, and your current role as Director of Engineering of AsiaSat?
A: Yes, I was among the very first batch of satellite controllers in Hong Kong, and was indeed AsiaSat's first satellite controller! I am very proud to play a part in making Hong Kong's history into space-age communications.
I very much appreciate the opportunities I was given through my career, and currently in my new role to lead AsiaSat's engineering team - while staying current with the latest development in satellite technologies, we are continuing to innovate to meet the changing requirements of future applications to support customers' services on our satellites.
William (second from left) waited with excitement at AsiaSat's Satellite Control Centre for the launch of AsiaSat 1 on 7 April 1990
Q: Along your journey of AsiaSat's 30-Year milestone and the development of the satellite industry in Asia, do you have a specific experience you would like to share?
A: I am grateful to have the opportunity to take part in all of AsiaSat's satellite missions. Among these missions, AsiaSat 2 is certainly the most challenging and unforgettable program to me.
AsiaSat 2 was our first satellite project that we were fully engaged in, from initial procurement processes such as preparing request for proposal (RFP), evaluating proposals, setting up field office in the satellite manufacturing facility, to attending satellite design review meetings, monitoring the hardware development and then system assembly, integration and testing (AIT), and finally participating in the launch mission. It was the first 3-axis stabilised satellite for AsiaSat adopting the latest and most advanced technologies in those times that enabled us to build a satellite with both C-band and Ku-band, doubled the coverage with much higher EIRP than our first satellite. Due to the relatively new design and complexity of this spacecraft, we encountered various obstacles and challenging issues throughout the program and it finally took us nearly 3 years to complete this spectacular mission.
I remember my friend Alan Frohbieter, ex-AsiaSat 2 Program Manager from Lockheed Martin, now VP of Engineering and Chief Engineer of Ball Aerospace said to me many years after AsiaSat 2 launch - "All is well for me at Ball Aerospace. But nothing quite comparable to the experience that I had been working with you and the rest of the AsiaSat team in this program!" - I feel the same way too.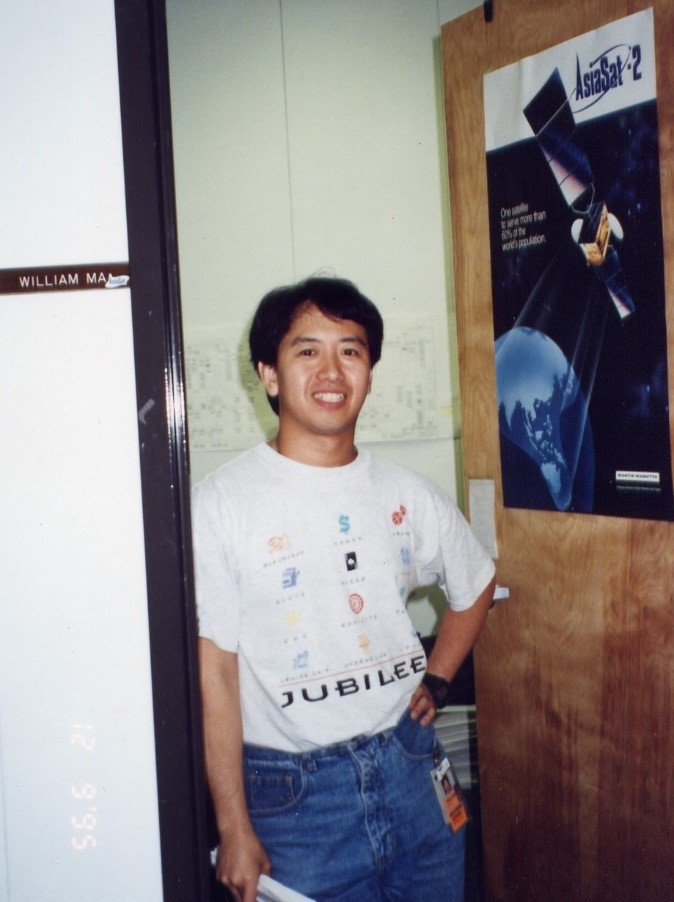 William spent more than 2 years at the AsiaSat Field Office (AFO) building AsiaSat 2 at Lockheed Martin's manufacturing facility in the U.S.