Betty is presently the longest-serving staff at AsiaSat. Working in the Finance Department from the days the company was incorporated, undertaken IPO and now a private company, Betty has witnessed and contributed to all these exciting developments.
Q: How do you feel as the longest-serving staff at AsiaSat?
A: It really has been quite a journey, a wonderful journey from the early days of setting up the AsiaSat office with only a few staff to now a much bigger team of over 100 employees. I am so proud of being a member of the team contributing to the growth of AsiaSat through this 30-Year journey, not only from the perspective of our operational scale and financial performance, but also the reputation we have gained as Asia's leading satellite operator.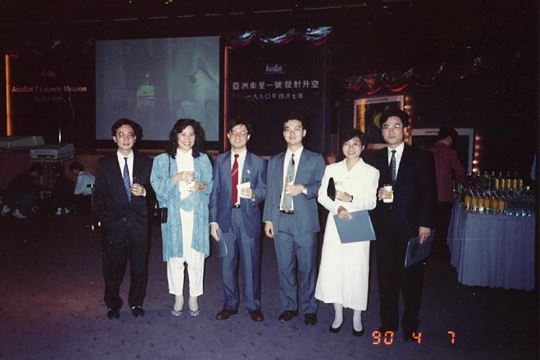 Betty (second from right) with her husband Samuel on her left pictured before the live broadcast of AsiaSat 1 launch at the Hong Kong Convention & Exhibition Centre on 7 April 1990
Q: You have been dealing with numbers in your day-to-day work. How would you make it a fun in your daily life?
A: Yes, I take care of the numbers, for me, what makes numbers work are the people, the technology, and the care and interaction with our customers and suppliers who have different practices in all the countries we provide our service.
AsiaSat has a global customer base, so I have the opportunity to deal with customers from different regions and industries, and learn about their financial practices, culture or even what is sensitive in the use of terms and phrases that may affect our business with them. With the advances in technologies over the past years, we have implemented new systems to help us deal with these numbers more efficiently. This is where I find the joy and satisfaction.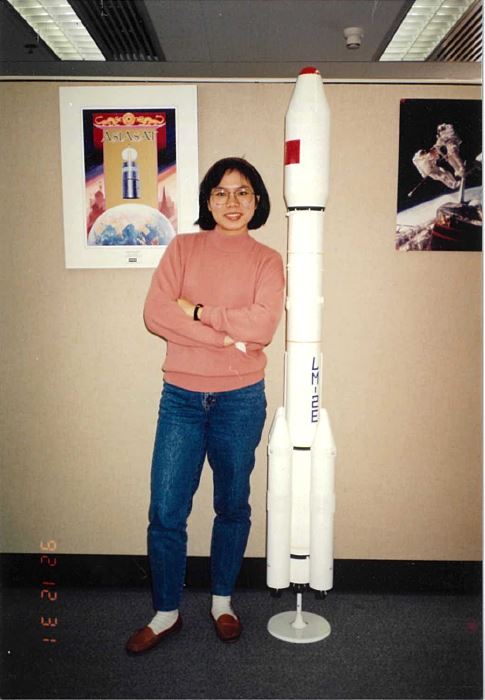 Behind Betty: (left) A poster featuring AsiaSat 1's Hughes HS-376 satellite model; (right) The two astronauts retrieving the unused satellite Westar VI back to earth, which later became AsiaSat 1. Next to Betty was the rocket model for launching AsiaSat 2 in 1995