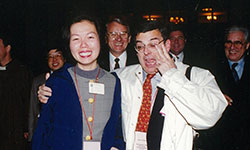 "Happy 30th AsiaSat ! It was my honour to be part of the team that pioneered Asia's satellite television industry in those early days, made possible the use of telephones in many parts of rural Asia, brought into Asia the first bouquet of digital satellite TV channels ( "European Bouquet"), played a key role in India's astounding success in its television industry, enabled the first in-flight broadband services in Asia, provided the first 'broadband via satellite' consumer services in Australia, introduced global live news and sports broadcasting into Asia ! The list goes on and on !

Congratulations to all my friends there and my best wishes for your continuing success !"
— Ex-VP, Business Development & Strategy, AsiaSat
Photo caption: Sabrina with Peter Jackson after the successful launch of AsiaSat 2 on 28 Nov 1995.