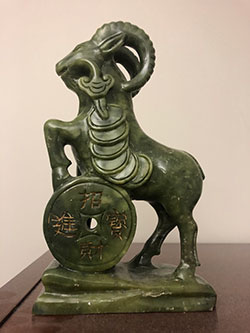 "AsiaSat 4 was the fourth of four satellites being built by Boeing (Hughes) Satellite and the third satellite to be launched by International Launch Services. The satellite was prepared to launch, and the date would have been 10 April (USA) / 11 April (HK), however weather delayed the launch until 11 April (USA) / 12 April (HK).
AsiaSat presented ILS a Jade Ram (Sheep) statue to commemorate the successful launch of AsiaSat 4, which was prominently displayed as part of a long history of launching satellites for AsiaSat. This was the start of my wonderful experience working with AsiaSat and will always hold fond memories of the people (present and past) on the various projects.
I wish to express my sincere gratitude in developing my career to Dr. Ya Chiu, Peter Jackson, Bill Wade, Sabrina Cubbon, Roger Tong, Fred Ho, Fred Vong, Sue Yeung, Catherine Chang and many, many more at AsiaSat.  I will always try to use those lessons for every aspect of my future.
Wish continued success to everyone at AsiaSat."
Photo Caption: The Ram was the gift AsiaSat presented to ILS to celebrate AsiaSat 4's successful launch in 2003, Year of the RAM