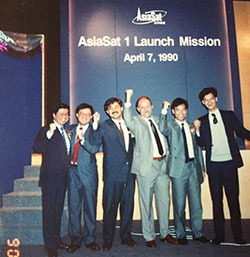 "About 30 years ago, I witnessed the start of the first private satellite company in Asia and I have always been honoured to be one of the engineering team members contributing to the founding success.  This is AsiaSat which has gone through the many stages of success development since the procurement of AsiaSat 1 to the latest AsiaSat 9 operating in orbit.  
In any industry today, there are inevitable disruptive changes that create opportunities and threats to any organization.  However, I feel certain that AsiaSat has brought me many valuable and stable friendships that built over the past years.  These are friendships with some of those who still work for the company, many ex-colleagues who have left the company, ex-colleagues who have retired,  and also with many friends from all parts of the world who have a strong passion working in the satellite industry.  I am very grateful to AsiaSat that brought me these friendships.
This is not just a corporate anniversary, it's an anniversary of many non-forgettable friendships that only grew stronger every year.  I wish AsiaSat many more years of unparallel success and congratulations on this special day. Happy 30th anniversary!"
— AsiaSat Staff (1988-1992), Presently SVP Technology, PCCW Global
Photo caption: (Second from the right) Henry, with colleagues from Engineering and Operations Dept. of AsiaSat during AsiaSat 1 launch live broadcast at HKCEC on 7 Apr 1990